Kosovo's President Atifete Jahjaga Sees Kosovo War (1998-1999) Unlike Bill Clinton
| | | |
| --- | --- | --- |
| Publikuar më 22 shtator, 2011 nė orėn 12:15 ( ) | Prof. Dr. Mehdi Hyseni | English | | |
According to the former U.S. President Bill Clinton: "The Kosovo crisis was a genocide in the heart of Europe", not just an "armed conflict", as officially stated Mrs. President of the Republic of Kosovo, Atifete Jahjaga, at a change of command ceremony for KFOR on September 9, 2011. www.gazetaexpress.com/09/09/2011).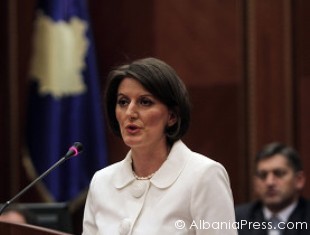 While what took place in Kosovo was a genocide war, it is unnecessary to use the terms "ethnic cleansing" or "armed conflict." It is known that war is a form of conflict; however conflict is not necessarily a war. Furthermore, what occurred in Kosovo from 1998-1999 was genocide by Serbia, which was aimed at the extermination and expulsion of Albanians from their homes and homeland, thus there is no need to describe it with the term "ethnic cleansing." Calling it so would be a form of mitigating the term "genocide" in a political sense, not in the legal international humanitarian sense of the word.

Without a doubt, former American president, Bill Clinton has used the term "armed conflict" before, but he has also rightfully used the term genocide in the case of Kosovo, since Kosovo irrefutably became a genocide war committed by Serbia's Slobodan Milosevic, which consequently led to a military intervention by NATO against Serbia and its military, paramilitary, and police forces which had occupied Kosovo from 1989 -1999.

So, unlike President Atifete Jahjaga and her imitating cabinet dilettantes, who claim that what occurred in Kosovo was simply an "armed conflict," former U.S. President Bill Clinton has rightfully declared to the international community that the Kosovo crisis was indeed genocide. This is the undeniable truth and therefore, we are obliged to write, to affirm and defend it, be it in the national state realm or international one. In his book "The Global Covenant," Robert Jackson, a distinguished professor of international relations, highlights former President Clinton's accurate assessment.

Belgrade also calls it an "armed conflict."

Neither Milosevic's genocidal regime nor today's so-called democratic regime in Serbia, led by president Boris Tadic, who by all means is struggling to break the northern territory of the Republic of Kosovo, have not accepted nor recognized that what occurred in Kosovo was genocide executed by their barbaric military, paramilitary and police forces. They continue to claim that it was only an "armed conflict" between Serbian armed forces and "terrorist forces" of the Kosovo Liberation Army (KLA). This is the official opinion of Belgrade's authorities and the Serbian Orthodox Church, including those in Serbian academic circles, daily newspapers, and propagandists, together with their Russian and pro-Russian allies. They refute the term genocide in order to firstly, hide their intentions and territorial pretenses of the colonial and neocolonial war of Great Serbia in Kosovo, Presevo, Bujanofc and Medvegja which are all territories that have historically been an integral part of Ethnic Albania (1842 -2011); secondly, to deny war crimes of genocide committed by Serbia in Kosovo; and thirdly, to denounce and deny in the face of the whole world, the national liberation, anti-colonial and just war led by the KLA by categorizing it as a "terrorist organization." The KLA was not in any element a "terrorist organization," but rather a national liberation army that formed and organized under the rules, norms and principles of the law of war, public international law and international humanitarian law. The KLA war was completely a self-defense, anti-colonial and anti-terrorist war that was seeking national liberation. In summary, it was a just war, which took place against the unjust genocide committed by Serbia, which was an international crime.

President Atifete Jahjaga should read more books about the war in Kosovo to correctly describe what happened!

In reality, President Atifete Jahjaga, does not have time to dissect terminology and the definitions of "armed conflict" and "war." At the very least, I suggest that she browse my book entitled "KLA and International Law" published in Tirana in 2010. There she will find facts and sound arguments that what was conducted in Kosovo during 1998-1999 between Serbia's police, paramilitary and military fascist forces and the Kosovo Liberation Army, was in fact a "war" and not an "armed conflict." The term "war" is more precise and meaningful because it denotes an effort to eliminate the opposing side.

According to Serbian official authorities in Belgrade, propagandists and the Serbian Orthodox Church in Kosovo, there had never been a war, but only an "armed conflict" caused by Albanian "terrorist gangs" (1912-1999). However, this is an immense fabrication. The 20,000 Albanian victims and 600 mass graves of Albanians during 1998-1999 is proof of this being a genocide, and denies all claims that in Kosovo there was only an "armed conflict".

The murder and massacre of over 20,000 Albanians in Kosovo both soldiers and civilians, over 3,000 missing, and the burning of over 100,000 thousand homes, not to mention the hundreds of thousands of wounded military personnel and civilians (most of whom remained for 12 years at "the mercy of time" and political leaders of Kosovo) throughout Albanian Kosovo, refutes President Atifete Jahjaga's absurd statement that Kosovo was only an "armed conflict." It was in actuality Serbia's aggressive war, genocide and fascism against Kosovar Albanians in an attempt to further colonize the territory.

Most eminent scholars of international law, especially in U.S. and Europe, have found in their works that in Kosovo, the Serbian regime of Slobodan Milosevic committed genocide, and an aggressive and unjust war, while the KLA conducted a just, anti-colonial and liberation war. This is what truly happened in Kosovo at the end of the decade of the twentieth century (1998-1999). Not just an "armed conflict," Belgrade officials and the Serbian Orthodox are confirming with their alliances from the Balkans, Europe and Russia. Hundreds of books written by world specialists of international law, law of war, international humanitarian law, history, politics, and diplomacy have mentioned that this was not just an "armed conflict."

An "armed conflict" in peace?

On July 25, 2011 the youngest of the terrorist gangs of armed Serbs in northern Kosovo, killed Enver Zymberi and two other policemen of the KSF in Bernjak customs point in the north of Kosovo. The KSF was attempting to reset legal and constitutional order and state sovereignty in the Republic of Kosovo via resolution by the government this is an example of an armed conflict that took place, and not a war, even though Serbian gangs used weapons and military ammunition against members of the KSF. Meanwhile the execution, massacre, destruction and disappearance of over 20,000 thousand victims, and the burning of Kosovo, was genocide not just an "armed conflict" between Kosovo and Serbia.
_______________________

* Author is Ph.D. in International Political Relations


Vėrėjtje: Artikujt e botuar nė albaniapress.com nuk shprehin domosdoshmėrisht mendimet e stafit moderues!
Vlerësimi juaj për lajmin
| | | | | |
| --- | --- | --- | --- | --- |
| | | | | |
| I keq | I dobët | I mirë | Shumë i mirë | I mrekullueshëm |
| | | |
| --- | --- | --- |
| | | |
| | Është vlerësuar nga 24 vizitorë | |
| | | |
The So-called "Serb Republic" in Bosnia Isn'...

E premtė, 10 qershor 2016 - 01:36
First of all we should pointed out the fact that the so-called "Serb Republic" in Bosnia doesn't exist as an independent and sovereign state as are Serb...

Secrets from the Underground

E martė, 31 maj 2016 - 08:04
By Robert Leonard Rope San Francisco May, 2016 How one courageous forensics doctor helped piece together an impossible mass murder mystery - while rel...

më shumë nga - English »